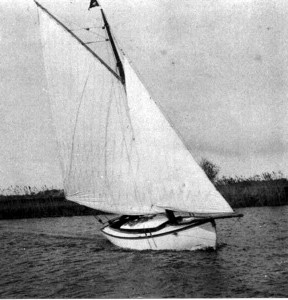 This site is dedicated to cataloguing the Total Restoration of the sailing yacht "Memory:.  Memory was built in 1912 for a Mr H.J. Suffling to a design by Dr Harrison Butler. The yacht was built by E.L. Woods of Lavelty and launched in 1912.  Her measurements are as follows;
LOA 21ft.        LWL 18 ft.       Beam   6 ft.    Draught  3.5 ft.      Thames Measurement   3 tons.    Displ.   2.5 tons.     Lead Keel  .85 tons.
Sail Area:  225 Sq. ft.
Dr Harrison Butler was one of that group of pre-war amateur yacht designers together with others like Albert Strange and Claud Worth who did so much to advance the science of yacht design and produced so many of our most admired designs today.
Memory was the first boat built to his 1909 design.  She is 18ft long with a 6ft beam, carvel built on steamed oak frames with steel floors. She was originally Gaff rigged but has since been changed to gunter rigged later in her life.