Memory has returned from the "Shipwright" back to Dundalk. Pat did a terrific job and everybody  comments on the quality of his workmanship. Memory has some of her deck beams in place and I need to finish the last of the "riveting" before securing the Gunnels. I reckon I have riveted some 4000 nails into Memory's Ribs using copper square nail and round washer. The next job is to secure the "Gunnel" with stainless steel nut and bolt. I will through bolt every third Rib, removing the rivet in place if required. I am still amazed at the quality of Memory's hull. This hull is 100 years old and seem like it was only built yesterday.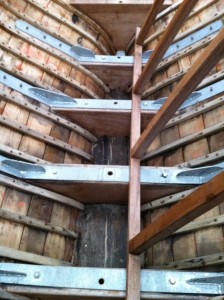 New steel and wooden Floors
I plan to start laying the deck on Memory in September 2012 which will be of "Iroko" covered with a canvas deck as original. The original deck was pitch pine but I paln to use Iroko as it easier to get in this neck of the woods.
I have Memory's original engine which is a "Stuart Turner" along with the shaft, propeller and fuel tank which date from 1934. I purchased a 1960 model of the same engine which had been refurbished with the idea of fitting this engine. I have also toyed with idea of using a Yanmar 1GM10 which is small enough to fit in the tight space provided.
Other jobs that have been completed are the 'Galvanised Floors, compression post for the mast and the new fore deck hatch.